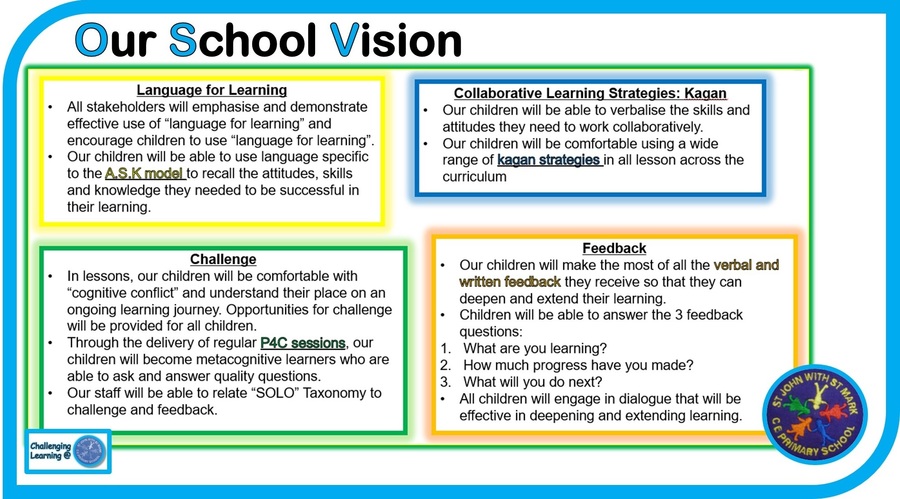 Reading
At St John with St Mark, early reading and writing skills are taught in EYFS and Year 1 using Letters and Sounds.
Please look at our letters and Sounds page for further phonic information.
In NURSERY all children:
Are introduced to the first 30 sounds in short weekly sessions.
In RECEPTION all children:
Read storybooks and non-fiction books closely matched to their developing phonic knowledge
Take home storybooks to share
Read with fluency and expression
Learn to spell using known sounds
Write confidently by practising what they want to write out loud first
Work well with a partner.
By the end of YEAR 1 all children:
Are accurate and speedy readers.
To support your child in developing their reading skills, you can follow this LINK to the Read Write Inc parent support page.
Writing
Give your child access to pencils, crayons and paper for opportunities to write and record.
Encourage them to write their own stories or retell favourite ones
Discuss new vocabulary that they may come across in their reading and invest in a good dictionary to allow your child to explore and investigate the meaning of words for themselves.
Reinforce the correct use of punctuation. Discuss the use of capital letters, full stops, question marks, commas, and full stops in sentences.
Look at different types of writing including poetry, adventure stories, settings, plays, letters, descriptions, adverts, newspaper reports and character descriptions and look at the features of the different types of text.
Encourage the children to produce work of a high quality in their learning log.